The Puzzle of Life was created during Castle Game Jam 2018 by Noncho Savov (me, programming) and Jurgita Raynite (art). The Game Jam was organized by James Newnorth (Spelkollektivet) and was held in a medieval castle located in Örebro, Sweden between the 7th and 15th of July. The main theme of the jam was "Capricious".
Development process took 5 days. On the very first day we formed a team and decided to create a puzzle game that would involve animals. We named our team Optimistic Universe. The name was given by a random name generator and we really liked it, as it corresponded well with our game idea. We knew our goal was to create an evolution based game. However, we were only vaguely familiar with the evolutionary history of life that happened on Earth. Therefore, a substantial amount of research had to be carried out (geologic eras, types of organism etc.) to familiarize ourselves with the evolution process and come up with an idea on how it can be implemented into the gameplay.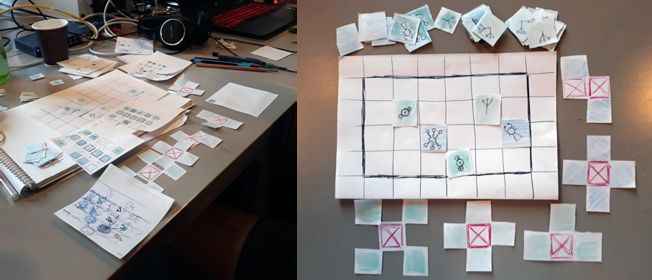 The first day was spent mostly with brainstorming.. 80% of the time was spent paper prototyping our game idea and most importantly the gameplay mechanics. The paper prototype testing lead us to significantly narrow our game scope as well as get early player feedback. Later on, it proved to be of great importance, because it led to a straightforward development process.
Because I didn't had anything on the computer screen in the evening I felt like the first day was off (which as said wasn't true - the paper prototyping was a crucial part) I could not sleep long during the night and managed to get up early the next morning while it was still dark outside - which was quite remarkable when you know that in July the sun rises at 3:40 AM in that part of Sweden.. By noon I already had basic game mechanics programmed, and by the end of the second day we had game prototype working on the computer!
An important moment was an online stream on Twitch by Pontus Widehall (Puuve from the Viking Squad). He play-tested our games while we were developing them and it was visible on a large projector screen in the development area. It helped a lot not only because it was very insightful to see how someone was interacting with the game, but also with the received feedback from other gamejam participants.
Here I want to thank Jurgita Rainyte for the amazing collaboration we had during the game jam. Jurgita was far more than just artist with the only responsibility of doing graphical assets - her contribution over figuring out the game concept was really important. She also had a vision about what the game mood and feel needed to be, and made a great choice about the music soundtrack. Go check her
website
.
We published Puzzle of Life in itch.io. There is a web link which requires Flash player to be installed and enabled in your browser. Aslo there are Windows and Android builds. You can access the game following
this link
, or you can read our
devlog
.
And finally here is the
Puzzle of Life
.
A mind-bending logical game about evolution where you help primordial organisms evolve, featuring three levels and hi-score leaderboard. Enjoy!